Dinners Week 4: Parmesan, Pumpkin, and a PINK Party
Baked Veal Parmesan:
(Recipe found in Open House, A Culinary Tour, The Junior League of Murfreesboro)
1/2 cup cornflake crumbs
1/4 cup grated Parmesan cheese
1/2 tsp salt
dash of pepper
2 eggs
4 veal cutlets
1/2 cup butter
2 (8oz) cans tomato sauce
1/4 cup sugar
1/2 tsp oregano
dash of onion salt
1/2 cup shredded mozzarella cheese
Angel Hair pasta noodles (cooked according to package; about 1/2 of a regular sized box)
Combine the cornflake crumbs, Parmesan cheese, slat, and pepper in shallow dish. Lightly beat eggs in another shallow dish. Dip the veal cutlets in the eggs and then the crumb mixture to coat. Melt the butter in a 9x13 in baking dish in a 400 degree oven. Place the cutlets in the dish. Bake at 400 degrees for 20 minutes. Turn the cutlets over. Bake for 20 minutes.
Combine the tomato sauce, sugar, oregano, and onion salt in a saucepan. Bring to a boil. Pour over the baked cutlets. Top with the mozzarella cheese. Bake until the cheese melts. Serve over noodles
SERVE WITH:
Arugula salad with simple
lemon vinaigrette
NOTES:
Don't let the "baked" part fool you. This is really not a healthier version of veal Parmesan, but it is a lot simpler than frying the veal in a pan. Basically the warmed melted butter in the bottom of the baking dish allows the veal to be fried in the oven. I went ahead and prepared vinaigrette for the salad and the veal (actually I used thinly sliced chicken breasts this week because our grocery store didn't have veal, and I just can't do more than one store at this stage of my life) with the breadcrumb and Parmesan mixture in the morning so that I'd be ready to roll when the butter was melted. DO NOT use the powdered Parmesan cheese. Use the grated or shredded Parm in the refrigerated section. I started boiling the water for the noodles and making the sauce when I flipped the chicken, and everything was done at about the same time. My guys love this, but the sauce is a little sweet for me, so just beware that if you want a saltier marinara sauce, you may want to cut the sugar by about half.
Flaky Tomato & Mozzarella Tart:
(Adapted from CovCom Cooks!)
1 sheet puff pastry, thawed and cut in half
1 yellow tomato, thinly sliced
1 Roma tomato, thinly sliced
2 cups mozzarella cheese, shredded
1/2 cup fresh basil, chopped
Preheat oven to 425 degrees. On a lightly floured surface, roll each 1/2 of the puff pastry into a 9x6 inch rectangle. Place on a parchment lined baking sheet and refrigerate until firm, about 30 minutes. Prick all over with a fork and top each half with 1 cup of the mozzarella, 1/4 cup of the basil, and half of each tomato. Drizzle with olive oil and season with 1/2 tsp salt and 1/4 tsp black pepper. Bake for 10 minutes or until edges are beginning to brown.
SERVE WITH:
Leftover arugula salad from night before.
NOTES:
This is like pizza taken up a notch. It is totally delicious and super easy. You do have to make sure that you set the dough out to thaw (which takes about 40 minutes) and allow the dough to set after you roll it (another 30 minutes,) so this is definitely a recipe to start earlier in the day. This week I used the yellow and Roma tomatoes, but you can also use grape tomatoes, or heirloom tomatoes (these make it really pretty!.) I usually cheat the recipe a little and just refrigerate it after I put all of my toppings on it. Cook time is only 10 minutes, so it is a super simply, slightly fancy dinner to prepare on a busy night.
Black Bean Pumpkin Soup:
(Recipe found in Open House, A Culinary Tour, The Junior League of Murfreesboro)
3 (15oz) cans black beans, rinsed and drained
1 cup drained canned tomatoes, chopped
1/4 cup unsalted butter
1 1/4 cups chopped onion
1/2 cup minced shallot
4 garlic cloves, minced
1 T plus 2 tsp cumin
1 tsp salt
1/2 tsp freshly ground pepper
4 cups beef broth
1 (15oz) can pumpkin
1/2 cup dry sherry
1/2 pound ham, diced
3 to 4 T sherry vinegar
FOR GARNISH: sour cream, toasted pumpkin seeds
Combine 2 cans of the beans and the tomatoes in a food processor and process until coarsely pureed; set aside. Melt the butter in a heavy, 6 qt pot over medium heat. Add onions, shallot, garlic, cumin, salt and pepper. Cook until onions are tender and starting to brown, stirring constantly. Stir in the pureed bean mixture, the remaining 1 can of whole beans, broth, pumpkin, and sherry. Bring to a boil. Reduce heat to low. Simmer for 25 minutes or until the soup is thick enough to coat the back of a spoon, stirring occasionally. (May be prepped in advanced to this point and chilled.)
Just before serving, stir in the ham and vinegar. Simmer until heated through, stirring frequently. Season with salt and pepper. Serve garnished with sour cream and toasted pumpkin seeds.
SERVE WITH:
Sister Schubert's Rolls!
NOTES:
This is such a fun, fall soup. It is delicious and pretty and is fun to serve on a week night for my family or for a dinner party in a fun pumpkin soup terrine. I do not normally have sherry just hanging around, so I purchase cooking sherry at the grocery store (or substitute white wine.) Sherry vinegar is not easy to find, so you can substitute white wine vinegar if you have that on hand. This is great to make after Thanksgiving and use leftover ham. If you don't like ham, you can substitute shrimp, chicken, or sausage.
Pinterest Inspired 1st Birthday Party!!!
I found all of these recipes on Pinterest, so here they are (with their pinned images) to share :)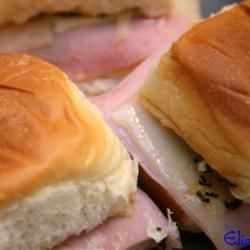 Easy Ham and Cheese Appetizer Sandwiches
Brie and Cranberry Tartlets
Prosciutto Wrapped Asparagus
Perfect Boiled Shrimp
with Ken's Steakhouse Cocktail Sauce
This is the actual smash cake!!!
Smash Cake and Mini Cupcakes made with yellow cake mix and frosted with
Classic Vanilla Buttercream Frosting
NOTES:
I LOVE a good party, and this was such a fun party to plan for. The only theme to the party was PINK! After having two boys, I thought I would go all out with the pink food, pink beverages, pink flowers, pink outfits, everything. Along with the items above, I served watermelon (not the best idea for this time of year!!,) sliced strawberries and grapes, ChickFilA nuggets, and pink lemonade for the kids. I could not have pulled it off without my family helping, especially my sweet mama, who is a party planner extraordinaire.